It's space week! Or at least it is here on Boy Mom Crochet Life. This Saturday (July 20) marks the 50th anniversary of the moon landing. Now, I know I wasn't even born yet when it happened, but it's still hard to believe it's been 50 years since we landed on the moon!
So to celebrate, here are some of my favorite space-themed patterns from across the Internet. Hope you can find something fun to get in the spirit! And check out my Cuddle Rocket pattern while you're at it!
Free Patterns
C2C Solar System Blanket by Whistle and Ivy
I have loved this blanket since the first time I saw it, but it always gets pushed down the list of projects I want to work on, usually due to gifts I want to get done. I hope to be able to make it someday! I know the boys would love it!
Astronaut helmet by Repeat Crafter Me
Who hasn't pretended they were an astronaut at some point? And if you make this, you won't have to worry about your kids finding clear buckets to put on their heads to play astronaut! Not that I know anything about that…
Alien and flying saucer by Adorable Amigurumi
A flying saucer would not be complete without it's alien driver! How cute are these two?
Rocket ship by CraftyAnna
You can never go wrong with a good solid rocket ship!
Lost in space rocket by Hannah Cooper
This pattern requires you to enter your email to get the free download, but it looks totally worth it! The boosters along with the shuttle body make this the most realistic free shuttle pattern I've found.
Fly me to the Moon by the Bear Necessities
This rocket ship doorstop would be an awesome addition to any little one's room or playroom!
Jupiter by Marina Levy
Jupiter is the favorite planet of many people, with it's swirling colors and intriguing Great Red Spot. Now you can have your own! This designer also has the other planets in the solar system, although Saturn and Earth are paid patterns.
Astronaut hand puppet by ekayg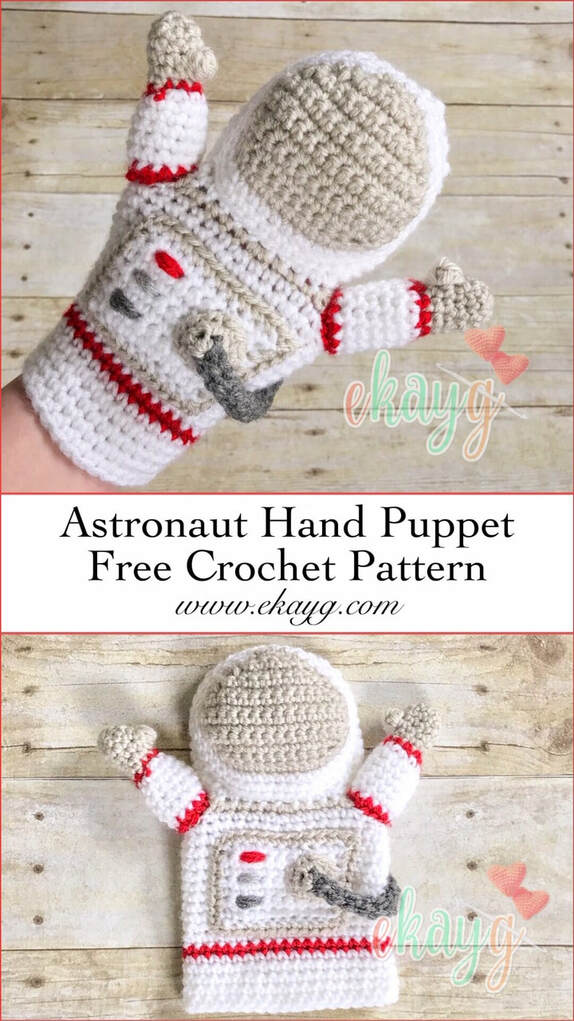 For the littlest space lovers, a hand puppet that looks like an astronaut is sure to keep them entertained and develop a love of space from an early age!
Astronaut by Alyssa Voznak
This little guy is just too cute! And bonus, he's got a little rocket ship (also a free pattern!).
UFO by zancrochet
You can't have just one UFO on the list, and this one is super cute, too!
Futurama brain slug by Louie's Loops
I couldn't keep this at an even 10 because how could I not include the brain slug? Futurama was one of my favorite shows and it can live on with the help of the brain slugs.
I hope you found some inspiration among these patterns! Happy space week!
Pin for later