Man, it's been a crazy week! If you saw my Instagram, you know we had a family vacation to the Frio River, which was amazingly relaxing- I mean as relaxing as a vacation with a 3 year old and a 1 year old can get.
But I'm also currently sitting at the airport (it's 5 in the morning- yuck!) and realized I hadn't managed to get any posts up this week when I promised you that I was going to have something for you this week.
Luckily, I got some pictures of my squares before I left so I can share them with you!
The Idea
I got the idea for this temperature blanket because I wanted to make something special for my kids that had meaning. I think ANYTHING we hand make for anyone is special, but it doesn't always hold that deeper meaning that I was really wanting.
I was also seeing a lot of temperature blankets and really liked how colorful and playful they look. Perfect for a small child! Except I didn't need a huge 6' long (or more) blanket for such tiny humans (I had just recently had B, so he was really tiny!)
So what to do?
I decided on a temperature blanket to record the high temperature from the month and place of each boy's birth. Finding C's info was a bit challenging because he wasn't born in the U.S. but I managed it in the end.
It definitely helped to compile everything into a spreadsheet and work off of that so I didn't have to keep referencing the website or screenshots of the high temps for their birth months.
Some of the links in this article are "affiliate links", a link with a special tracking code. This means if you click on an affiliate link and purchase the item, I will receive an affiliate commission. The price of the item is the same whether it is an affiliate link or not. Regardless, I only recommend products or services I believe will add value to you. By using the affiliate links, you are helping support boymomcrochetlife.com, and I genuinely appreciate your support.
The Square
At first, I thought about doing different types and sizes of squares and just melding them together into more of a patchwork look, but my perfectionist side came through and I didn't care for that idea so much.
So I needed 30 and 31 squares of the same size, big enough to make a whole blanket from. Hmm…
I found some good contenders on Pinterest and Ravelry but I kept coming back to the Willow square. I loved that square from the first time I saw it and was looking for an excuse to buy the pattern book for awhile.
But it's not exactly a big square. After I bought the book, I worked a Willow Square up just to check my dimensions and it was about 7 inches square. Definitely not big enough.
But what if I used a bigger hook? I found my fancy (only because I couldn't get it with a set and had to buy it individually) 9 mm hook and worked up a test square.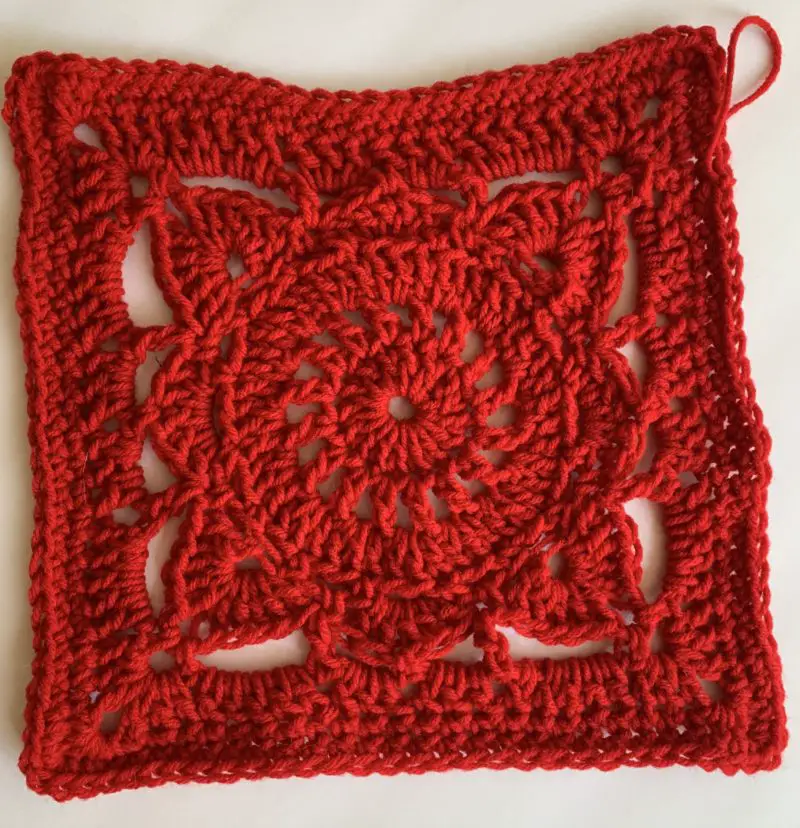 Not bad, right? It's definitely more open and lacy looking than when it's made with the appropriate yarn and hook size, but I like it! It also measures about 12" across, which is way more possible to make an entire blanket from.
The Blanket
Unfortunately, I'm being a bit of a tease here as my blankets are not finished yet. I probably should have done one at a time but anyone with more than one child knows how it is when you try to make one thing for one kid at a time (hint: not great).
However I do have one of almost every color I plan to use. I'm missing the dark blue color still. I think I'm pretty set on using Loops and Threads Impeccable in Royal but I guess my perfectionist side is coming out again and causing procrastination on the final decision- funny how that works.
But here's a shot of all my colors: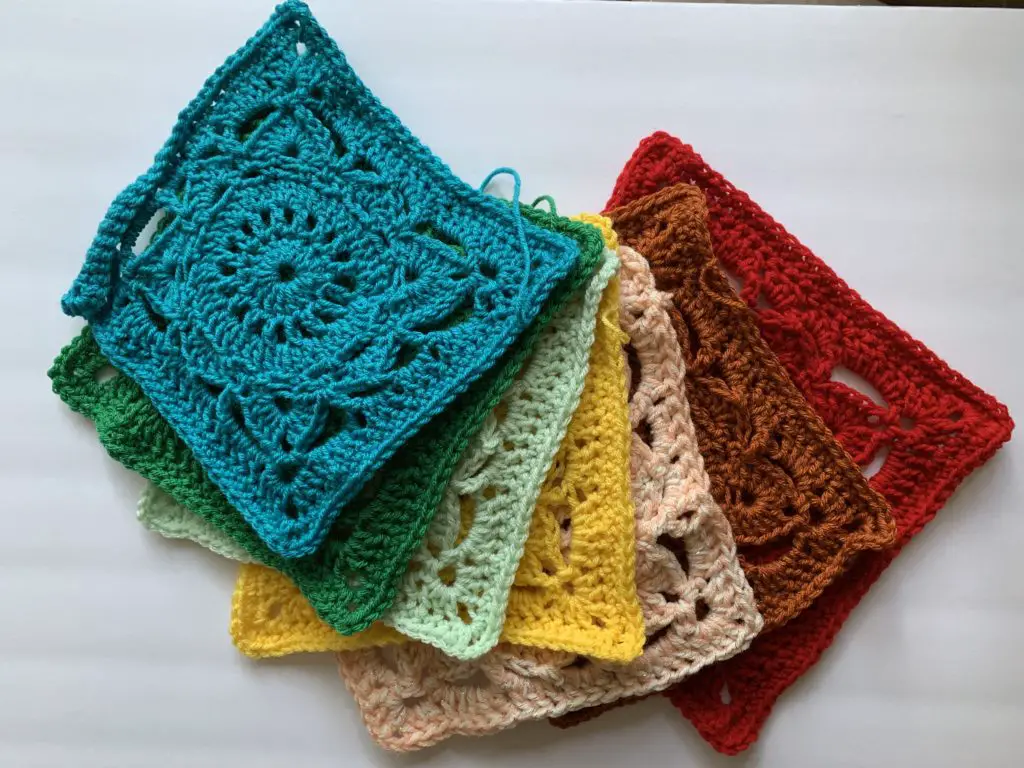 I love them! I loved them when I chose them but of course started doubting myself while I was working on the squares. Putting them together showed me that I love how they look together and got me super excited again!
I also chose to make the square from the day of their actual birthday a little more special. So I found a glittery yarn (I Love This Yarn Metallic in Ivory) and double stranded with the temperature color for the day (which happened to be the same color for both boys- the peachy light orange color). I had to leave off the last two rows to ensure it remained proportionally sized with the rest of the squares.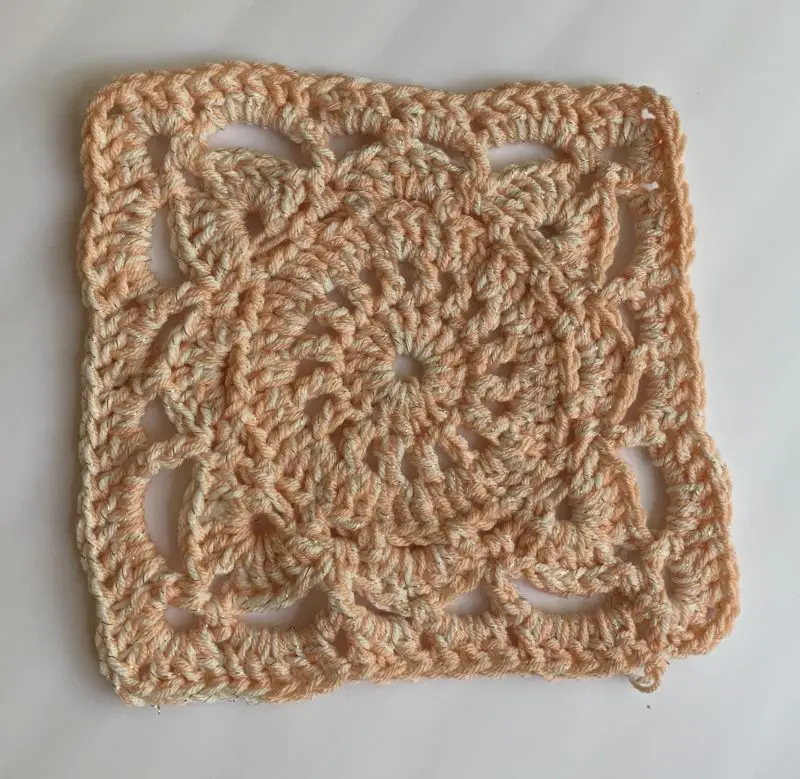 I still love how it looks! And if you're up for double stranding all of your squares, it definitely looks closer to what the square looks like in the hook/yarn size called for in the pattern. It will create a much denser fabric, but maybe that's what you want!
For You
Would you like to make your own temperature blanket for someone special? I've created a spreadsheet template for you! All you need to do is select the month and year and input the temperatures. I've included a link to an historical temperature record website to help you out.
Once you've input the temperatures, the spreadsheet will space the temps over the color ranges, which ensures that no color is left unused, and automatically highlights the temps so you know what color they will be.
There are also layout sheets which will show you what the blanket will look like with the data you input.
I'm super proud of it and hope it helps you in your planning.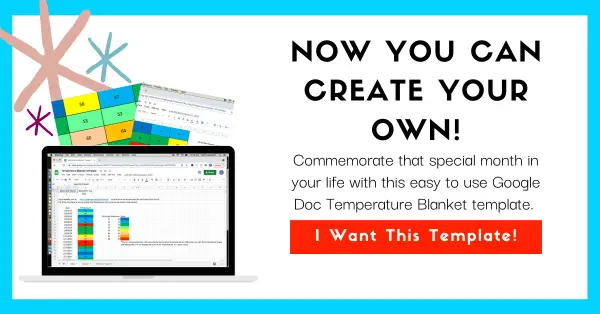 Get your own granny square temperature blanket template here!
Happy Crocheting!
If you do make a monthly square temperature blanket, even if you don't use the template, I would love to see it! Tag me on Instagram @boymomcrochetlife